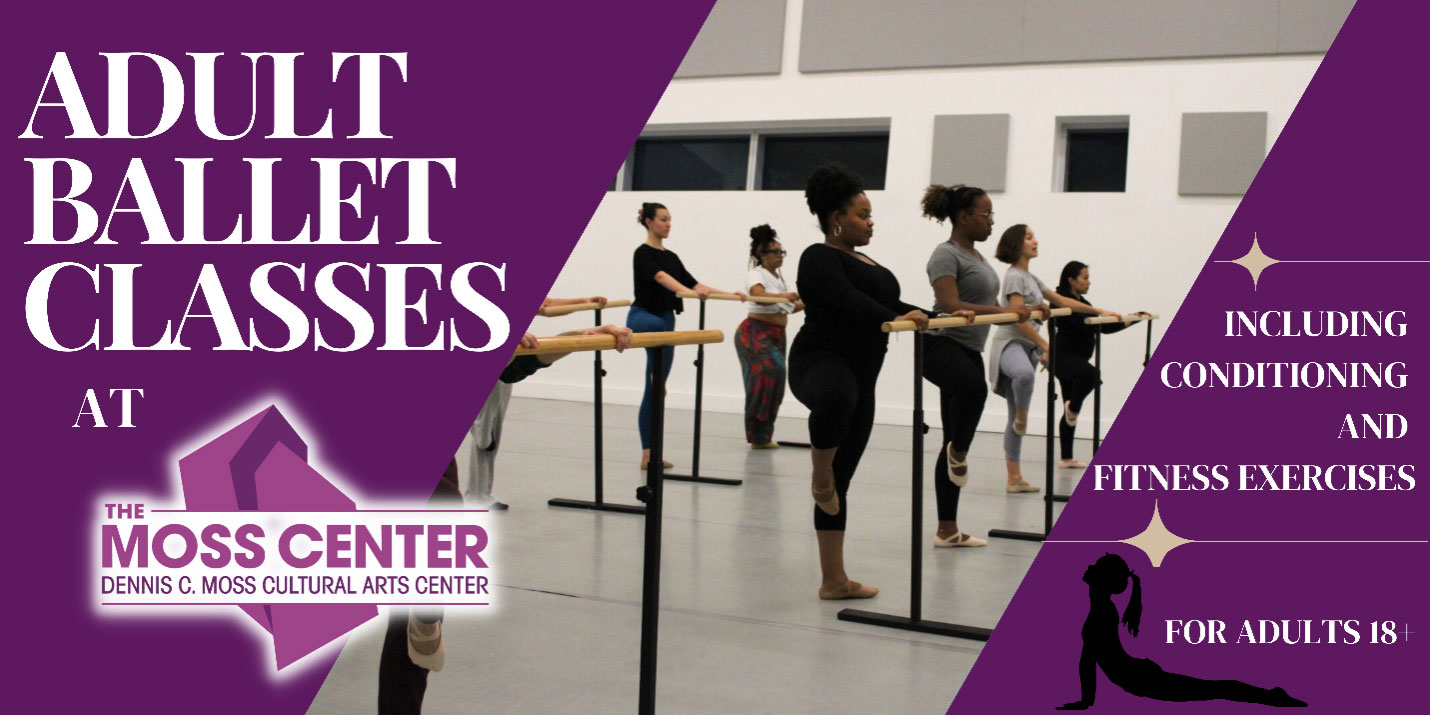 We are very pleased to offer dance at The Moss Center as a means of fostering a lifelong love of dance and the arts in our community. The Education Department is proud to expand our dance class offerings to adults who are interested in the art of ballet.
Please see below for a class description and additional details.
Suitable for adults 18 and over – Mondays and Wednesdays from 6 p.m. to 7 p.m.
Have you always wanted to dance? Are you a retired dancer who wants to move their body again in a safe space? This adult ballet class for beginner/intermediate levels will introduce or reintroduce you to the fundamentals of ballet and take you through a traditional ballet class with modifications if necessary. The class will also include conditioning fitness exercises that facilitate ballet technique.

Duration of Course:
This is an 8-week course that runs from Wednesday, Sept. 27 through Wednesday, Nov. 15. The class meets twice a week, on Mondays and Wednesdays.
There will be no classes on the following dates:
Cost:
The full 8-week course is covered by a one-time fee of $125.
Class meets twice a week, and students are encouraged to attend both classes each week. Attending class one day a week is permissible if scheduling conflicts exist. The one-time course fee of $125 is the rate for attending twice a week and/or one time per week.
All fees are non-refundable. There are no refunds or credits for missed or canceled classes.
Registration:
Registration will open online on Wednesday, Aug. 23 on our Event Page.
Registration will be open until Sept. 26 OR until the class has been filled.
Once the class has been purchased, you will receive an email with a Waiver to be signed electronically.
What should be worn to class? Is formal ballet attire required?
Formal ballet attire such as leotard and ballet tights are not required. Students may choose to wear formal ballet attire if desired, but fitness/work out clothing such as a tank top and leggings is completely acceptable. Soft ballet slippers are the preferred footwear. Form fitting attire is preferred to assess proper alignment, but not required. Warm up garments such as sweaters, leg warmers, and sweatpants are allowed for the beginning of class. Additional accessories such as ballet skirts are also allowed if the student wishes to wear them.
Are ballet buns required? What if I don't know how to do a ballet bun/my hair is not suitable for a ballet bun?
Hair should be picked up and kept off the face. A traditional ballet bun is not required. Any hairstyle that keeps hair securely off the face is welcome.
Are pointe shoes allowed?
No, this is not a pointe class; pointe shoes will not be allowed. This class will be focusing on proper ballet technique on flat, using soft ballet slippers.
Will there be a recital or end of course presentation?
There is no final presentation, recital, or performance for this course. This course is meant to provide an understanding of ballet and healthy fitness and conditioning exercises to allow the students to feel strong and explore their artistry through dance. There is no pressure to learn choreography or feel prepared for a showcase.
If I start the classes and change my mind, or cannot for any other reason attend the classes anymore, can I get a refund?
No, there are no refunds or credits offered for this course.
If you have any additional questions, please email
educate-smdcac@miamidade.gov
or call the Education and Outreach Coordinator Nicole Pedraza at 786-573-5313.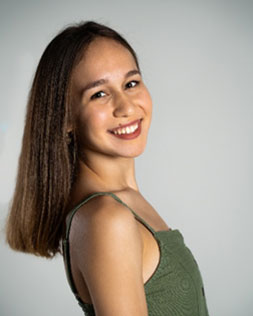 Natalia Marie Rocamonde is a dance artist, choreographer, and dance educator. Natalia graduated with a Bachelor of Fine Arts in Dance from New World School of the Arts in 2021 where she studied classical ballet, modern, and Afro-Caribbean dance. She is also a graduate of Ballet Etudes School of South Florida. Natalia has had the opportunity to perform in festivals such as the Mauro Youth Arts Festival in Puerto Rico and the Merce Cunningham Centennial in New York City. Her choreography has been presented at the Pérez Art Museum Miami, Miramar Cultural Center, and in various NWSA productions.

Please direct questions regarding the dance class program at The Moss Center to Nicole Pedraza at educate-smdcac@miamidade.gov | 786-573-5313 or Annie Hoffman at annie.hoffman@miamidade.gov | 786-573-5319